All my work is hand made from a lump of clay, some purchased in moist form and other mixed in the studio at CCBC. I fire at all temperatures from cone 06 to cone 10. I fire raku, oxidation, and reduction. I am looking forward to participating in a wood firing this spring at Clayworks in Mount Washington, Maryland.
Tuesday, December 6, 2011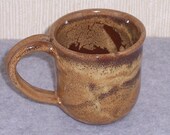 I live for peanut butter and chocolate! by Rebecca Roberts on Etsy
Check out this great peanut butter and chocolate treasure. Makes me want some.
Here is the link to my mug
http://www.etsy.com/listing/81575640/brown-mug-ceramic-mugs-brown-coffee-mug?ref=tre-1424030582-9
Posted by

Judith Frederick
at 8:19 AM